On the 8th and 9th of September, the Robust Automated Driving in Extreme Weather (ROADVIEW) consortium came together in Halmstad, Sweden, to officially launch the project. The two-day meeting gathered all 16 partners to present their vision for deploying safe Automated Vehicles (AVs) that are reliable in adverse weather conditions like rain, fog or snow.
A need for innovation on the road
Our project coordinator, Prof. Eren Aksoy from Halmstad University in Sweden, delivered an informative presentation on the state of the art of AV research and the expectations for ROADVIEW. Most AV functions and features have so far been developed and tested in good road conditions and with clear visibility. However, users seek trustful systems that are weather-aware and can manage varied road conditions. This is where ROADVIEW comes in: it will develop innovative systems that aim to cover very challenging edge cases on public roads, including extreme weather conditions and various levels of traffic densities. To achieve this, partners will be working on novel and disruptive embedded in-vehicle perception and decision-making systems based on enhanced sensing, localisation, and improved object/person classification.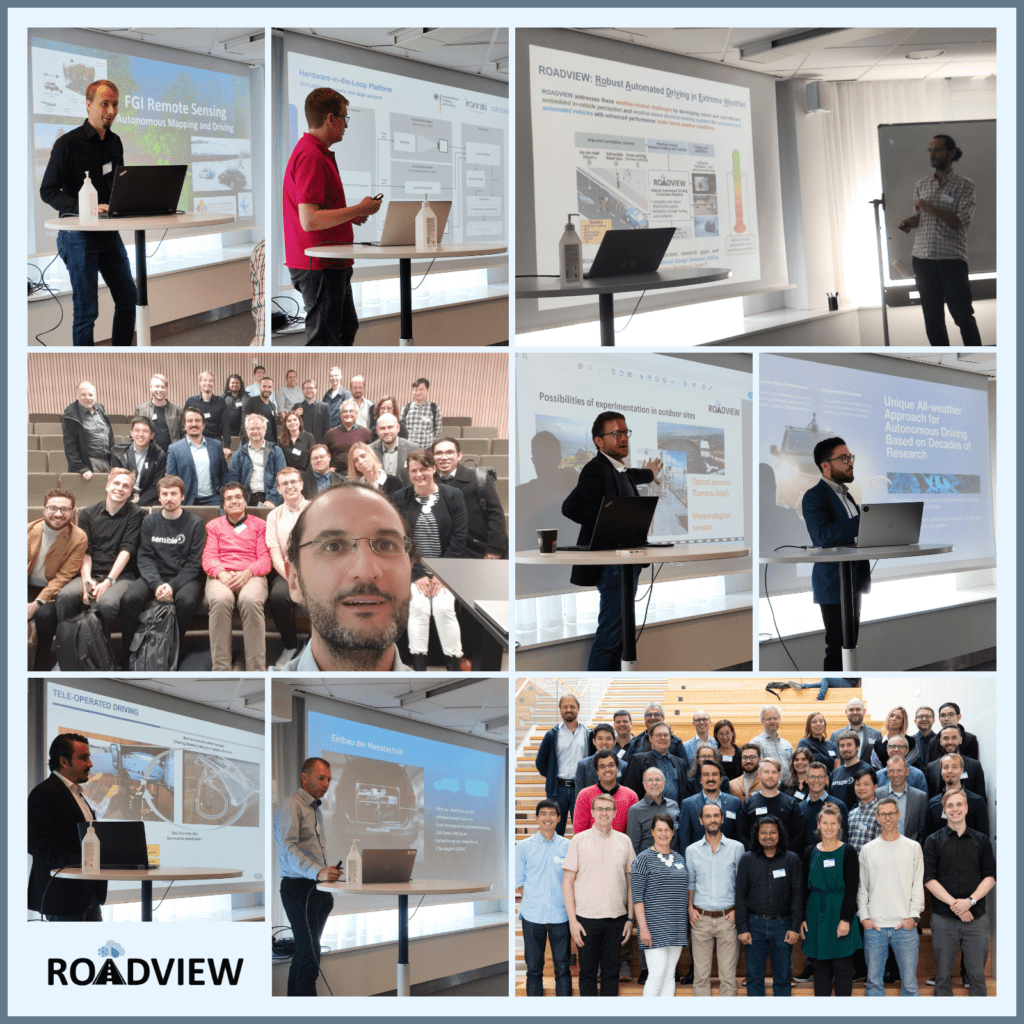 The outcomes of the ROADVIEW project are expected to have a significant global impact, especially on some of the focus areas within Horizon Europe's work programme Cluster 5: Climate, Energy and Mobility. With clusters like these, the European Commission strives to tackle global challenges and boost Europe's industrial competitiveness. Mr. Georgios Sarros, ROADVIEW's project officer from the European Climate, Infrastructure and Environment Executive Agency (CINEA), underlined the cluster's objective of improving road safety for all types of road users, including vulnerable ones like pedestrians and cyclists. He also addressed the modern challenges formed by new complex traffic scenarios. Smart and safe AVs show great potential in being part of the solution.
Synergies and collaboration
The kick-off meeting offered the consortium an opportunity to exchange ideas and identify synergies in person. Each partner presented their visions and expertise for AVs. Innovative concepts were discussed in great depth, which included sensor fusion, AI/ML algorithm development, and varied simulation environments. Triggered by the presentations, partners interacted actively while working on the first concepts related to the ROADVIEW terminology, system architecture, and digital twin models of real-world testing environments.
During the many discussions, special attention was given to project demonstration vehicles as they are critical for the success of the project. The demonstrators will address varied scenarios like highway and urban driving in harsh driving conditions. The demo vehicles will be tested and demonstrated in different weather test facilities, environmental test chambers and real road localisation, including Finnish Lapland.
Besides scientific topics, other key aspects of the project including project management and communication were also widely discussed. As the communication work package lead, our partner accelopment Schweiz AG presented a roadmap for dissemination, communication, and exploitation, stressing the importance of raising awareness of the ROADVIEW project and sharing its results with all its stakeholders, including the general public.
As the AV standardisation and regulatory landscape is very dynamic and new initiatives are emerging over time, our Innovation Manager emphasised a strong need for liaising and participating in current activities of working groups, national committees, and partnerships (ISO, ASAM, CCAM among others). One of the strategic objectives of the ROADVIEW consortium is to collaborate with the CCAM (Connected Cooperative Automated Mobility) Partnership and to seek international synergies between research projects.
The ROADVIEW kick-off meeting was a pleasant and productive gathering, which fostered the dialogue between all project partners representing different elements of the value chain: research and academia, suppliers, manufacturers, and management and communication experts.